The health of your business relies on having a robust, reliable network infrastructure. The foundation of that infrastructure is structured cabling – the organized system of cables, connections, and pathways that allows devices to communicate across your corporate IT network.
With 91% of global businesses experiencing at least one network outage per quarter in 2023,1 implementing a properly designed structured cabling system is a smart way to ensure your IT infrastructure is built on a solid foundation. But how can you be sure that your structured cabling system meets industry standards for performance and interoperability?
In this blog, we'll look at key structured cabling standards and the organizations that develop them to help you determine if your company's network foundation is solid, organized, and ready for whatever the future holds.
What Is Structured Cabling?
Structured cabling refers to the organized physical cabling system used to connect devices on computer networks and telephone systems within a building. It's the organized, standardized approach to telecommunications cabling that underpins all business communications and data transmission.
Unlike ad-hoc cabling with random cable runs, structured cabling follows a carefully planned topology with standardized connection points, cabling types, and pathways between a central distribution point and individual work areas. It enables networked devices like PCs, IP phones, wireless access points, security cameras, printers, and other equipment to connect to the network and communicate with each other.
Why Is Structured Cabling Important?
Structured cabling is more than just wires running through walls; it's a meticulously planned system that provides a reliable method for your business to transmit data, voice, and video signals. Businesses with low-quality cabling systems often face challenges such as:
Cable clutter creating tripping hazards or obstructing walking paths for employees
Difficulty tracing cables for moves, adds, and changes due to improper labeling
Poor cable quality or interference impairing network performance and staff productivity
Limited scalability to support more users or additional bandwidth
Inability to adopt modern technologies like VoIP systems and WiFi
Frequent network outages caused by subpar connections or poor installation
With a structured cabling system in place, your business can ensure it has the standardized, high-performance physical infrastructure needed to improve your network's reliability, agility, and cost efficiency.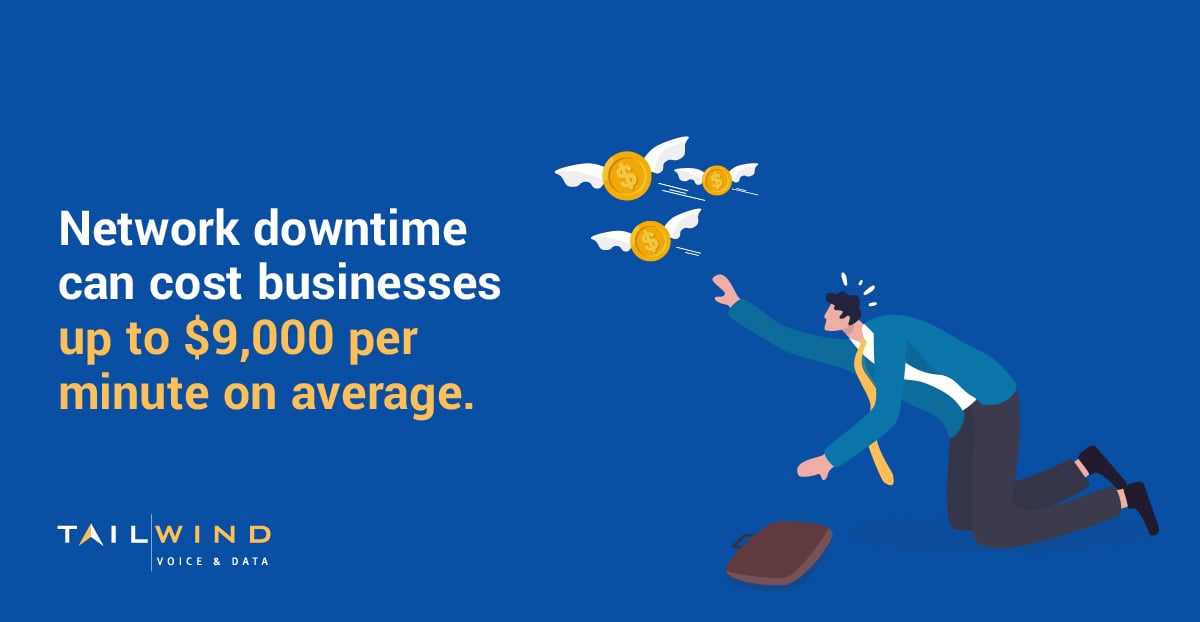 What Are the Components of Structured Cabling Systems?
A structured cabling system is designed to be straightforward for IT professionals to manage and maintain, reducing repair times and minimizing issues like downtime – which now costs businesses up to $9,000 per minute on average.2 The components of a structured cabling system include:
Work Area
The work area connects each computer, printer, and other equipment to a wall outlet, with cabling running from the outlets to the telecommunications closet.
Horizontal Cabling
The horizontal cabling includes connections for each work area outlet to the telecommunication closet on the same floor, typically using a Cat5e cable or higher.
Telecommunications Closet
The telecom closet contains the connection points between the horizontal and backbone cables for the floor. For larger businesses, there are often multiple closets per floor.
Equipment Room
The equipment room houses connections between the telecommunications closets and backbone cabling and sometimes contains the horizontal cross-connect for the entire building.
Backbone Cabling
The backbone cabling consists of the connections between telecom closets, equipment rooms, and entrance facilities, typically using high-speed fiber or shielded, twisted pair cabling.
Entrance Facilities
The entrance facility provides the connection to your external telecom and internet services. It contains the demarcation point between your building's external and internal cabling.
What Are Structured Cabling Standards?
Properly installing a structured cabling system in your business requires adhering to industry standards. These structured cabling standards establish technical requirements for the layout, installation, and testing of a telecommunications cabling system, ensuring compatibility across different devices and vendors and that global best practices are maintained. The two primary standards businesses should be aware of are:
ANSI/TIA-568
The ANSI/TIA-568 regulates structured cabling systems. Originally published in the 1990s by the Telecommunications Industry Association (TIA), ANSI/TIA-568 has been revised several times over the decades, with ANSI/TIA-568-C and ANSI/TIA-568-D as the most recent versions.
ANSI/TIA-568 provides requirements for:
Cabling Subsystems

- ANSI/TIA-568 outlines specific types of cabling, including horizontal cabling and backbone cabling, their respective components, and best practices for installation.
Cable and Component Specifications

- ANSI/TIA-568 defines performance requirements for cable and connecting hardware, ensuring interoperability and backward compatibility between different products and systems.
Connector Types and Pin Assignments

- ANSI/TIA-568 standardizes the types of connectors and the arrangement of wires within them to maintain consistency across cabling system installations.
Topology and Distances

- ANSI/TIA-568 determines the physical layout of the network cabling and the maximum distances allowed for different types of cable segments to ensure signal integrity and network performance.
Complying with ANSI/TIA-568 means your network cabling system can support a wide range of telecom services and provide a high degree of flexibility for future network expansions and upgrades.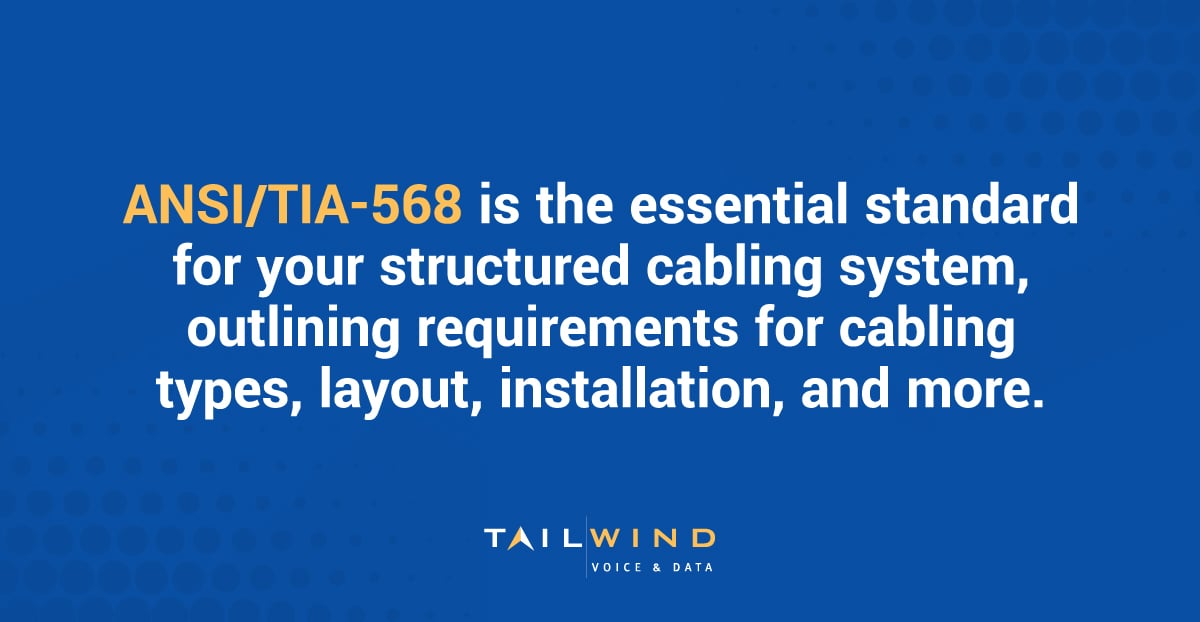 ISO/IEC 11801
ISO/IEC 11801 is an international standard for generic telecommunications cabling systems developed by the International Organization for Standardization (ISO) and the International Electrotechnical Commission (IEC). This standard provides a framework for telecommunications cabling in office buildings and other commercial establishments and sets guidelines for:
Cabling Types

- ISO/IEC 11801 specifies requirements for different types of cabling, such as twisted-pair cables and optical fiber cables, and their performance characteristics.
Performance Specification

- The performance and testing requirements for each element of the cabling infrastructure are outlined to ensure it meets data traffic standards.
Cabling Topology

- ISO/IEC 11801 recommends a structured layout that includes building distributors, floor distributors, and consolidation points, providing a clear and manageable cabling architecture.
Installation Practices

- It also details best practices for installing cabling components to ensure the integrity and performance of the cabling system.
Backward Compatibility

- ISO/IEC 11801 ensures standardized cabling systems are backward compatible, allowing for older and newer technologies to work together.
ISO/IEC 11801 serves as a guide for organizations looking to establish a structured cabling system that can adapt to digital advancements and support a mix of services. Following this standard provides businesses with a network cabling infrastructure that can support current and future telecom needs.
What Organizations Issue Structured Cabling Standards?
Along with those mentioned in the above sections, there are several other organizations that play essential roles in developing and publishing standards related to structured cabling systems, including:
Institute of Electrical and Electronics Engineers (IEEE)
The IEEE is a global professional organization that publishes many standards for cabling and networking technologies through its working groups and committees. For example, the IEEE 802.3 group has defined Ethernet standards that a structured cabling system must support.
InterNational Committee for Information Technology Standards (INCITS)
INCITS is an international organization that sets standards for storage, transfer, and security that impact structured cabling systems and network infrastructure installations.
European Committee for Electrotechnical Standardization (CENELEC)
The CENELEC has published the EN 50173 series standards for network cabling systems, including design and installation, which align with ISO/IEC standards.
Multi-Source Agreements (MSAs)
The MSAs aren't official standards organizations. Rather, they provide a framework for competing manufacturers to voluntarily agree on standardized cabling specifications to help drive industry interoperability.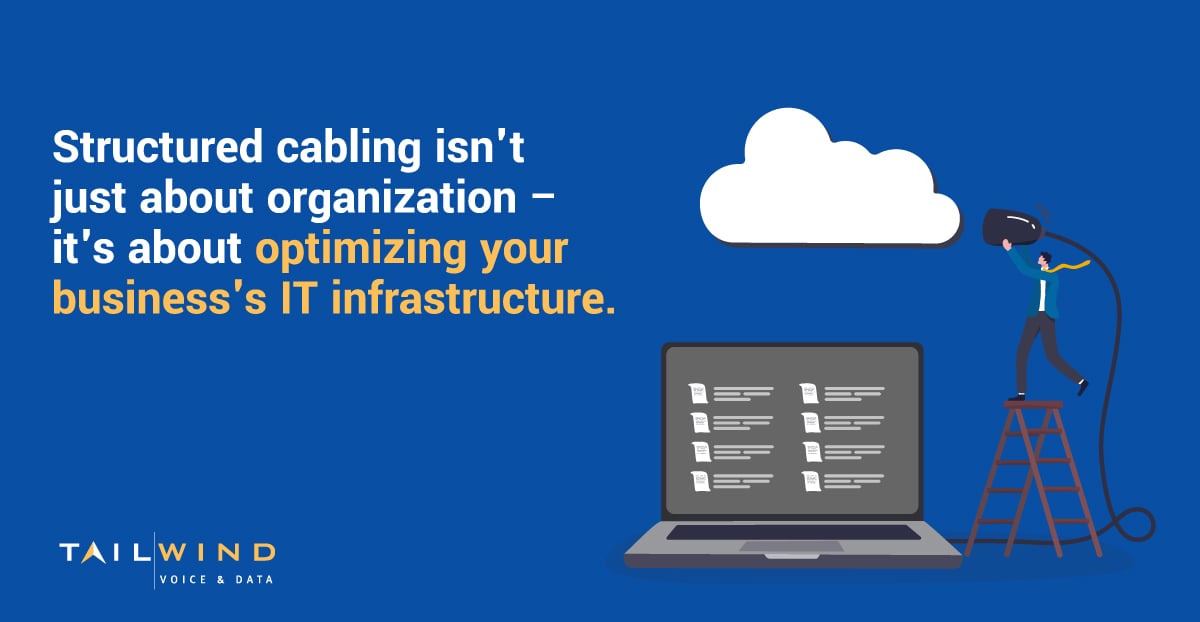 What Is the TIA/EIA?
The TIA/EIA refers to the important partnership between the Telecommunications Industry Association (TIA) and the Electronic Industries Alliance (EIA) that led to the development of structured cabling standards starting in 1991.
The EIA was a trade group representing electronics manufacturers in the U.S., which later merged with other organizations to become the Consumer Technology Association. The TIA represents manufacturers and suppliers involved in information and communications technologies. Together, the TIA and EIA created the first standards for telecommunications cabling, TIA/EIA-568. The American National Standards Institute (ANSI) renumbered the standards in 2009, which became the ANSI/TIA-568 series.
Despite this renumbering, TIA/EIA is still widely referenced when discussing the early generations of structured cabling standards. The partnership brought together industry and engineering experts whose foundational work made high-performance network infrastructures possible – and the standards they developed laid the groundwork for structured cabling as we know it today.
Get Expert Help Complying With Structured Cabling Standards
Following structured cabling standards like ANSI/TIA-568 and ISO/IEC 11801 is critical for building a robust, future-proof network infrastructure. By partnering with a structured cabling services provider like TailWind, you can rest easier knowing your telecommunications cabling is equipped to offer the reliability your business demands now and in the future.
Our structured cabling experts handle everything from network design to cabling installation to deliver a fully compliant structured cabling system tailored to your needs. Whether you need to upgrade your existing cabling system, optimize your OSP, or add advanced services, we'll prepare your IT network for the demands of the future. Ready to take the worry out of your wiring? Reach out to TailWind today!
Sources: