Ready to work in an environment that's positive, energetic, fast-paced, collaborative, flexible, and inclusive?
We Support 40,000+ Enterprise and SMB Locations
We encourage innovation and creativity, learn from our mistakes, and hold each other accountable. We work hard and we play hard – but we never forget that our primary focus is our clients.

Named one of the Top Workplaces in Minnesota by the Star Tribune in 2023, we strongly believe in developing our employees to be the best they can be, setting a path for growth, and promoting individuals within our organization.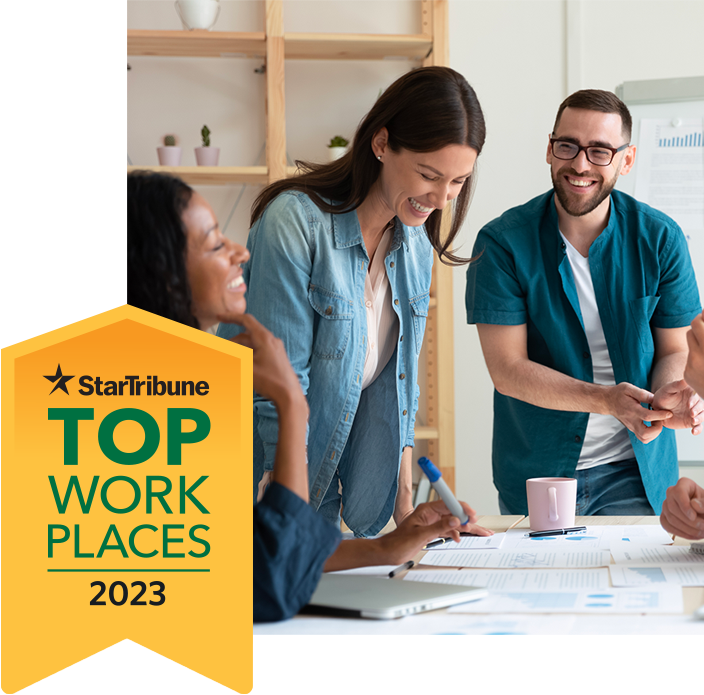 Are you looking for an inclusive environment driven by collaboration, respect, positivity, and accountability? Look no further.
Competitive Benefits
Our benefits package includes medical, dental, vision, basic life insurance, 401K matching, HealthiestYou!, and additional supplemental benefits.
Time Off
Enjoy both accrued PTO and 4 hours of "birthday PTO." In addition to national paid holidays, floating holidays are available at each employee's discretion.
Outreach Opportunities
TailWind participates in quarterly outreach programs. We believe in coming together as an organization to support those in need.
Employee Events
Participate in activities that include barbecues, cooking contests, online games (for remote workers!), an annual employee appreciation event, and more.
Quarterly Evaluations
We touch base with each employee quarterly to discuss what is working (and what's not), personal development, career paths, and other topics.
Multi-Generational Workforce
Our staff spans five generations. We have employees who've been with us for years – and are now retiring from full careers at TailWind.
Our Values
Our core values are at the heart of our day-to-day interactions with each other, our clients, and our vendors. These values form the basis of our employment decisions, service delivery efforts, and overall direction of the company:
Client-Focused
We work hard and play hard, but always keep our primary focus on our clients.
Accountable
We're human and accountable for our mistakes – and we learn from them.
Strong Work Ethic
We strive to do our best – for our clients and for each other.
Smart & Talented
We seek out the best, brightest individuals to add value to the TailWind team.
What Do Our Employees Say?
"I like working at TailWind because of the collaborative environment. I feel like I'm a trusted member of the team. Ideas and concerns are listened to, and the company consistently works on improving things for our clients and for our team."
"I like the culture of supporting each other's growth within the organization – and respect for personal space."
"TailWind believes in the power of hard work and fostering a sense of unity among team members. We work together, support one another, and have fun along the way."
"I love the culture and the diverse, inclusive environment. Everyone is welcome and a part of the team."
Want To Join the TailWind Team?
Reach out to us and see if we're a fit.