Modern workplaces rely on technology to instantly communicate, collaborate, and share information across the globe. While remote work tools and cloud platforms often take center stage, the structured cabling infrastructure enabling these technologies behind the scenes is equally important.
Like a solid foundation supporting a house, structured cabling provides the framework to keep your business running without disruption. It refers to the standards and best practices for organizing the wiring and cables connecting the devices and networks within your organization. Read on to explore the benefits of structured cabling and learn how implementing a well-designed structured cabling system can give your business a reliable, agile IT infrastructure.
What Are the Benefits of Structured Cabling?
By implementing a structured cabling system, your business can gain benefits such as:
Increased Speed and Bandwidth
Structured cabling systems are designed to support high transmission speeds and provide plenty of bandwidth for your business's current and future IT needs.
Reliability
With high-quality components and proper installation, structured cabling solutions provide dependable data transmission with minimal network downtime to keep your business running smoothly.
Flexibility
Structured cabling gives you the flexibility to modify, expand, and upgrade your system as needed, simplifying moves, adds, and changes as your company's connectivity requirements evolve.
Future-Proofing
Structured cabling is designed to exceed your company's current needs, so it ensures your infrastructure will be capable of supporting future technologies without having to make costly upgrades.
Easier Troubleshooting
The modular nature of structured cabling systems makes diagnosing and isolating issues much simpler. If your business encounters a connectivity problem, structured cabling allows your IT teams to identify the root cause and perform targeted repairs quickly.
Safety and Security
Structured cabling can improve employee and customer safety within your facilities by reducing tripping hazards from loose cables. It also keeps network infrastructure secure and protected in telecom rooms and cable trays.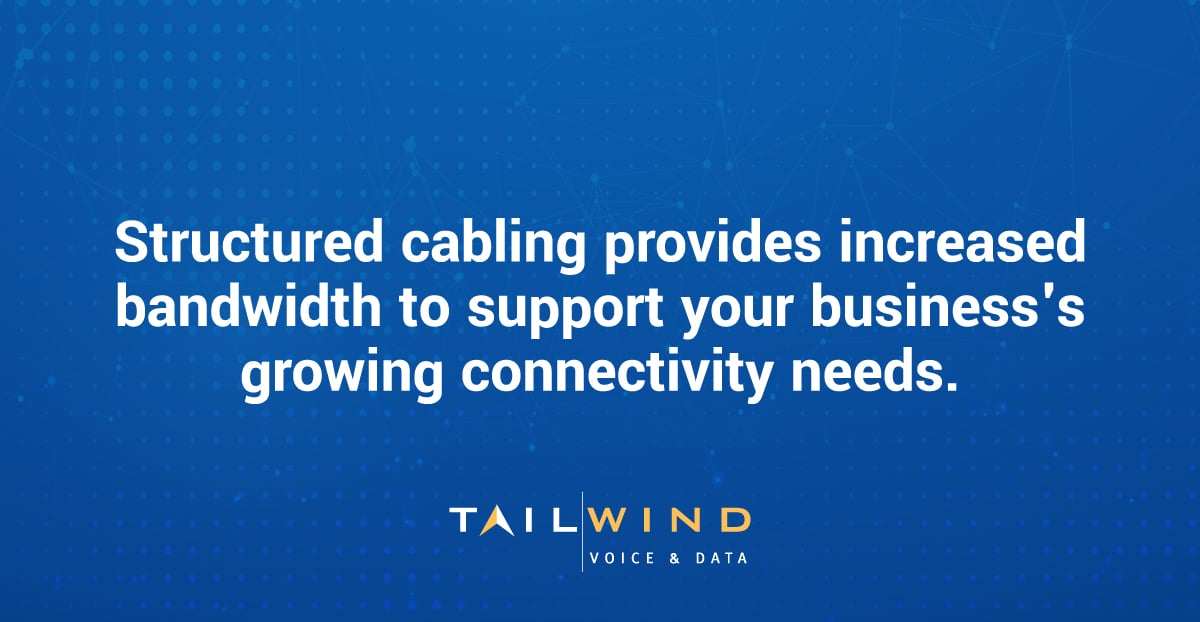 Structured Cabling Best Practices
To get the most value from your structured cabling system, follow industry guides for installation, testing, labeling, and documentation. Here are some structured cabling best practices to consider:
Hire Qualified Installers
Always hire experienced, certified professionals to install and terminate your cabling to ensure your new structured cabling infrastructure meets all applicable codes and standards.
Test and Certify Cabling
Once installed, a qualified contractor should validate that your cabling works as intended by testing cable runs and certifying performance.
Label All Components
Labeling all jacks, ports, patch panels, wiring closets, cables, and endpoints makes managing and modifying your structured cable network much simpler.
Document the System
Maintain detailed documentation of all structured cabling system components and connections to simplify troubleshooting and future additions.
Regularly Inspect and Maintain
Schedule annual inspections to check for any damage, monitor performance, and proactively replace any aging components. Preventative maintenance can protect your investment and increase its longevity.
Planning Your Structured Cabling System
When designing a structured cabling system, it's important to consider your company's current needs and future growth goals. Key factors to keep in mind include:
The number of work areas to connect
Your bandwidth requirements
Types of applications to support like cloud, wireless networks, video conferencing, etc.
Allowances for extra capacity
Pathways for cable runs and conduit
Your power, cooling, and ventilation requirements
Physical security
Take time to document your structured cabling architecture and maintain updated records of connections, cable types, locations, and inventory for easier troubleshooting and modifications down the road.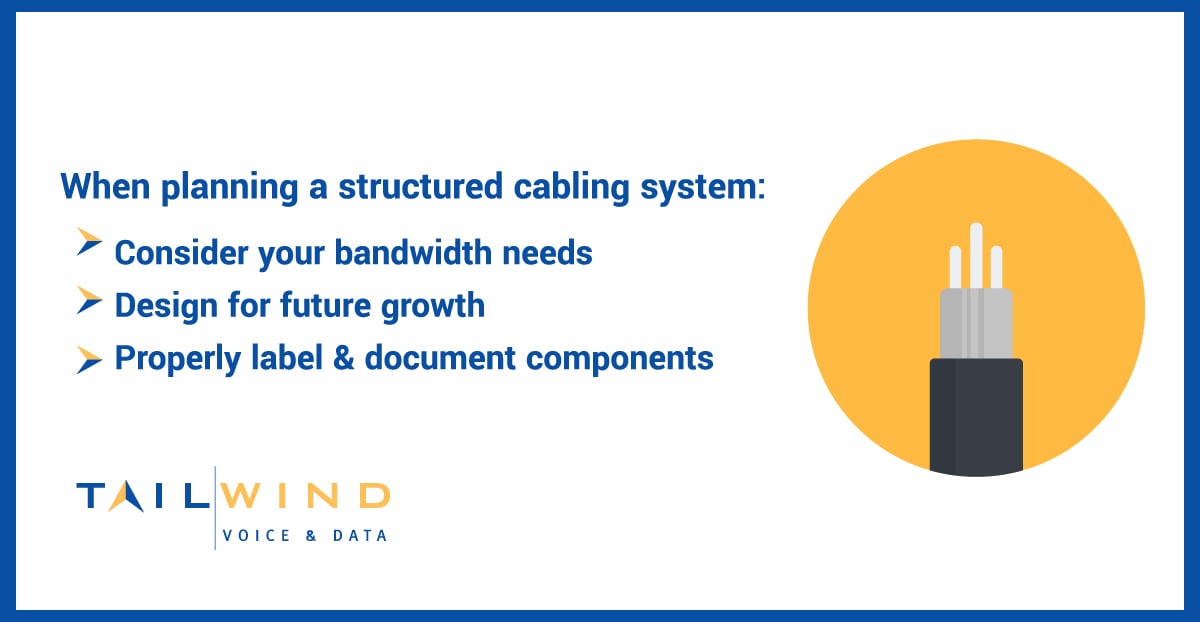 Structured Cabling System FAQs
Below, we answer some common questions about structured cabling systems:
Why Is Structured Cabling Important?
Reliable connectivity is crucial in today's workplaces, and structured cabling systems provide the robust foundation needed to prevent disruptions and help organizations stay agile. As your business evolves, a high-quality structured cabling system can help you accommodate new technologies, workspaces, and connectivity demands.
What Cable Types Do Structured Cabling Systems Use?
The main types of data cabling used in structured cabling solutions are:
Cat5e, which are Ethernet cables that can transmit computer data, video, and voice signals.
Cat6, which are Ethernet cables that can support up to 1 gigabit of data transfer for fast transfer of large files in a network.
Fiber, which are glass or plastic cables that use light signals rather than electrical signals to transmit data.
Coax, which can carry data over long distances and block signal interference.
Who Should Install and Terminate Structured Cabling?
Certified professionals should handle structured cabling installation and termination. Hiring qualified technicians ensures building codes, standards, and best practices are met.
How Often Should We Test and Certify Our Structured Cabling System?
It's recommended to test cable runs after initial installation and have an annual maintenance schedule to identify any changes in performance. Regularly certifying your structured cabling system helps verify it meets industry standards.
Is Structured Cabling Necessary for Multi-Location Enterprises?
Businesses of all sizes can benefit from the organization, flexibility, and scalability provided by structured cabling systems. However, they can be especially beneficial for multi-location enterprises, who frequently experience issues with disorganized, messy, and inconsistent cabling.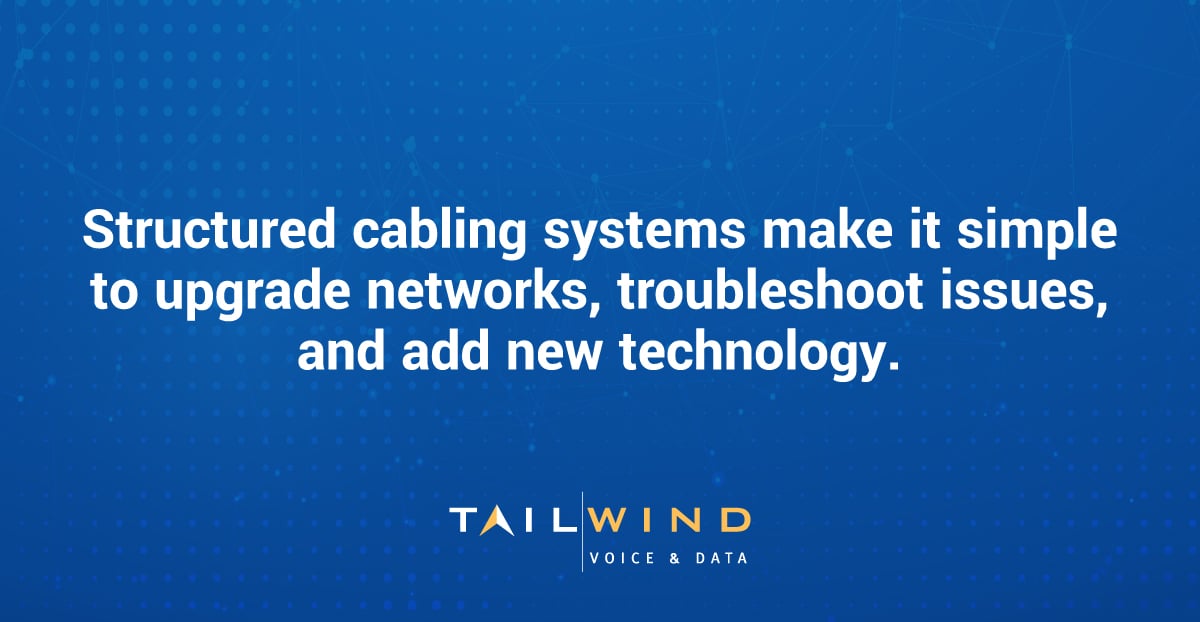 What Are the Components of a Structured Cabling System?
Structured cabling systems typically consist of the following components:
Entrance facilities
Work area
Horizontal cabling
Equipment room
Backbone cabling
Telecommunications room
How Does Structured Cabling Help Businesses Save Time and Money?
By reducing the time spent identifying and fixing issues, structured cabling minimizes costly downtime. It also eliminates the need for multiple wiring infrastructures, providing a single, unified cabling system that's easier and more cost-effective to manage.
What's the Difference Between Structured Cabling and Point-To-Point Cabling?
While a structured cabling system comprises the cabling and hardware that provide a telecommunications infrastructure for supporting a large number of connections, point-to-point cabling connects only one switch, storage unit, or server to another using fiber cables.
Trust TailWind For Your Structured Cabling Needs
In today's digital workplace environment, structured cabling system technology is crucial for businesses to operate efficiently. Implementing a structured cabling system is about more than organization – it's a strategic decision that can influence your company's efficiency, growth, and adaptability.
If you're ready for an IT infrastructure your business can depend on, TailWind is here to help. We provide end-to-end structured cabling services tailored to your unique needs, whether you need to relocate offices, streamline your OSP system, or add new technology solutions. Our experts have decades of experience designing, installing, and supporting structured cabling systems for multi-location enterprises, and we'll ensure your project is completed on time and within budget.
To learn more about how TailWind can implement a flexible, future-ready structured cabling infrastructure for your business, contact us today.