A Q&A with Andy Siemens
Andy Siemens, TailWind's CEO, sat down for a Q&A session to discuss his exciting plans for supporting TailWind customers with Technology Advisory services, his insights into today's key business challenges (and their solutions), and the best approach to a successful digital transformation.
Q. What prompted you to start offering Technology Advisory services?
A. So many enterprise companies today are looking to reduce the number of vendors they have in their portfolio. By offering professional services, connectivity, and now advisory services, we're really capturing the gamut of challenges our clients face from an enterprise IT perspective.
Essentially, we want to help clients simplify their vendor portfolio as the single point of contact to roadmap their technology.
Q. How will you be supporting TailWind customers with this service?
A. We're not going to be like the typical advisor who just makes a referral and collects the check.
What we'll do is leverage our ecosystem of 200+ technology partners to help our clients select a provider, review the contract, and negotiate on their behalf to get them the best pricing. We're helping them save time and money – and we'll be there to manage the back end of each project and provide ongoing, long-term support for the full lifecycle of the solution.
Q. What are the most common technology transformation challenges you see with businesses today?
One technology transformation challenge I see with businesses today is the lack of understanding when it comes to adopting new technologies. Many organizations find it difficult to make the transition from older, more traditional methods to newer capabilities such as cloud communications, SD-WAN, and mobile applications.
IT leaders can also become overwhelmed by the cost and complexity of new technology implementations, which leads to delays, budgets being exceeded, and other problems. Plus, there's also often resistance to change from employees who are comfortable with the status quo and unfamiliar with these new technologies.
All of these challenges can be addressed through proper planning, training, and support for employees, as well as clear communication about the benefits of the new technology.
Q. How can businesses best prepare for a digital transformation?
The first step is to understand their current processes and technology solutions, then assess the need for new software, hardware, and services. Businesses should also focus on customer experience, as this is key to a successful modern business strategy. They should evaluate how they are engaging with customers both online and offline and identify opportunities to improve customer service.
Exploring options for cloud-based solutions and mobile technology is a good way to provide customers with a seamless experience across devices.
It's also important to ensure existing data is secure by investing in robust cyber security measures. By doing this, businesses will be well-positioned for secure digital transformation.
Q. What are the most common pitfalls companies encounter during a digital transformation?
A. The most common pitfalls of the digital transformation process include:
Lack of a clear and defined strategy
Not properly understanding customer needs, expectations, and behaviors
Failing to optimize existing systems prior to introducing new ones
Lack of executive sponsorship or support
Inadequate budgeting for the project
Not having proper resources or expertise in place
Insufficient change management and communication
All of these issues can potentially cause delays, cost overruns, and an inability to meet desired goals. It's important for businesses to address each of these pitfalls before launching a digital transformation project in order to ensure its success.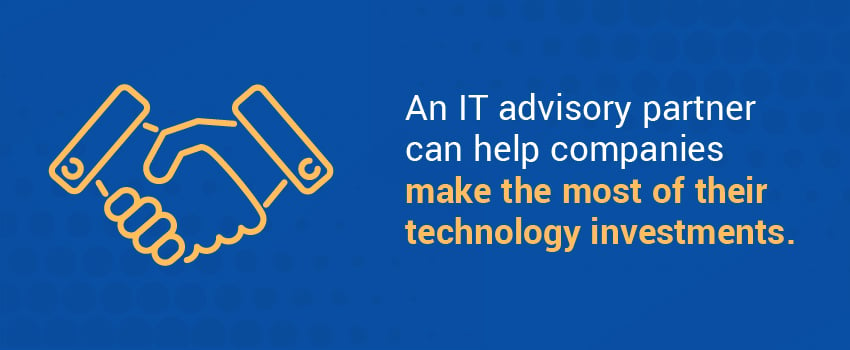 Q. How can companies benefit from IT advisory services?
A. IT advisory services can provide companies with a number of benefits, including:
Cost savings
Improved operational efficiency
Better security and data protection
Increased compliance with industry regulations
Greater customer satisfaction
More effective strategic decision-making
IT advisors can also provide expert advice on areas such as system upgrades and migration projects, usage of cloud technologies to increase scalability and flexibility, and improving customer service.
Ultimately, an IT advisory partner can help companies make the most of their technology investments. By having an experienced team of IT advisors on board, organizations can ensure their technology investments are optimized and aligned with their goals – while also reducing the risk of costly downtime or data breaches.
Q. What should companies look for in an IT advisor?
A. An IT advisory partner with a deep understanding of the company's industry is critical. The advisor should be up to speed on current technology trends and have experience in all aspects of IT – this includes everything from architecture and software development to cloud migration and cloud security.
The IT advisor should be capable of providing guidance on the most efficient and cost-effective technologies available and be open to feedback and suggestions from their clients. It's also important that your IT advisor is reliable, trustworthy, and communicative to ensure a positive, long-term relationship.
Q. How can TailWind help companies streamline their telecom and IT services?
We help companies through a simple, proven process:
Evaluate: We'll assess your services and how they align with your current and future needs, looking for gaps and opportunities for better efficiency.
Select: We'll do the shopping and negotiating for you – bringing only the best-fit suppliers to the table.
Implement: We'll oversee the implementation of any new services or technologies, so you don't have to.
Based on this methodology, we've saved companies thousands of dollars and countless hours in managing this process.
Q. How can companies get more information about TailWind's IT Advisory Services?
A. You can book a call with our team here.